Sandra Erb - Financial Consultant
MFA, Retirement Income Services Specialist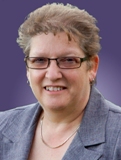 Sandra has been a financial consultant since 1993. Her commitment to excellence and her record of success is well founded with over twelve years of banking and financial experience at one of Canadas major banks. Professionally, Sandra believes in on-going education and training. Sandra holds a Master Financial Advisor Designation (MFA, Retirement Income Services Specialist) as well as her current licenses in Life Insurance, Sickness and Disability. Each year, she attends numerous courses, seminars and conferences to keep abreast of current legislation and trends.
Sandra believes that there is a better way to build financial security and wealth. A way that is available to anyone who takes the time to understand and implement the principles behind the financial planning process. To that end, her philosophy is straightforward; financial success is the result of a proper plan that focuses on the realization that clients do not need to make a lot of money in order to make the money they have, work for them.
For Sandra, the payoff comes from the satisfaction of knowing that prudent decisions made today will, in five to ten years, have a positive influence and an important impact on the lives of her clients.
Sandra can be contacted by email or by calling Erb Financial Services @ 519-656-2183 or
1-800-382-2683.